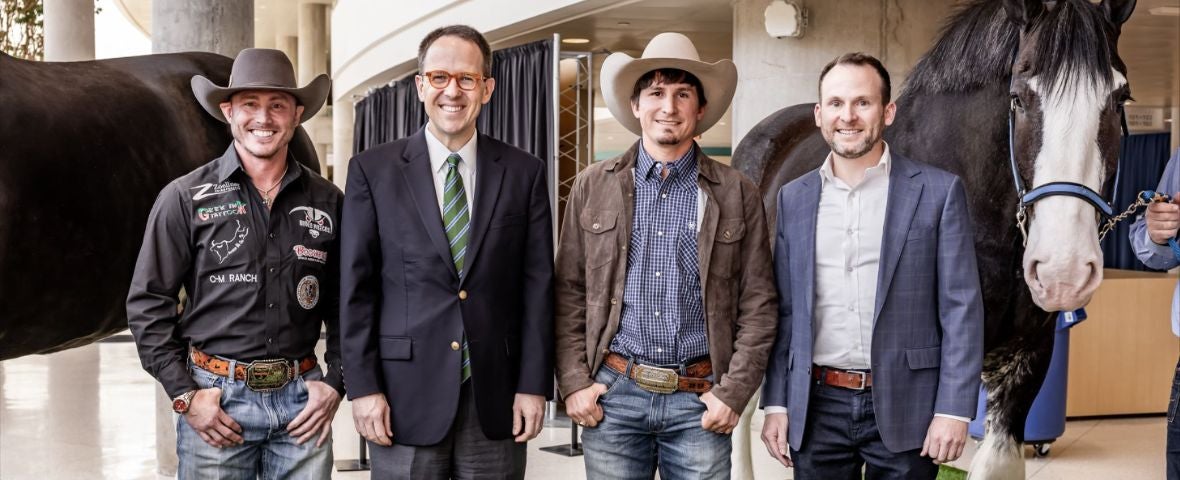 PBR AND BOK CENTER ANNOUNCE MULTI-YEAR RENEWAL TO CONTINUE BRINGING PREMIER SERIES ACTION TO TULSA
TULSA MAYOR ALSO PROCLAIMS 'PROFESSIONAL BULL RIDERS' DAY IN TULSA
(Tulsa, Okla.) April 13, 2022 - The PBR (Professional Bull Riders) and BOK Center, alongside ASM Global, today announced a multi-year renewal to continue bringing elite Unleash The Beast competition, featuring the world's best bull riders and bulls to Tulsa.

The multi-year extension will continue to bring the PBR Unleash The Beast to Tulsa for the next five years. Positioned just weeks prior to the mid-May PBR World Finals, the Tulsa event will hold a crucial role in shaping the race for the coveted PBR World Championship.

"I want to thank PBR and our partners at BOK Center and ASM Global for their commitment to bring world-class sporting events to Tulsa," Mayor G.T. Bynum said. "Our city has shown strong support for event attraction and retention and I'm eager to see Tulsans and visitors to our city be able to enjoy this sport for years to come."

On top of the announcement of the renewal, Tulsa Mayor G.T. Bynum officially proclaimed today, April 13, 'Professional Bull Riders' Day' in the city of Tulsa.

"We are excited to extend our partnership with BOK Center and ASM Global and make the commitment for Tulsa to remain a fixture as one of the most important stops on our elite Unleash The Beast tour schedule," said PBR CEO and Commissioner Sean Gleason. "There have been so many great moments for our sport inside BOK Center throughout the past decade. Both the bulls and cowboys have used momentum from Tulsa wins on their path to a World Championship. With the continued support of BOK Center, ASM Global and the city of Tulsa, our great Oklahoma fans will be afforded the opportunity to experience those career-defining moments each Spring, as we begin to now crown our World Champion each May."

"We appreciate PBR partnering with BOK Center and ASM Global to secure an event of this caliber for years to come. Being able to bring the best bull riders and bulls to Tulsa over the years has been a tradition that our community loves," said BOK Center Vice President and General Manager Bryan Crowe. "It feels good to have a new long-term commitment for this premier event and we look forward to providing an exhilarating experience for thousands of Tulsans year after year.

PBR has a storied history in Tulsa.

After first holding an elite Unleash The Beast event in Tulsa in 2005, the PBR debuted inside BOK Center in 2009 after the state-of-the-art venue opened to the public in late 2008.

Throughout the 18 events held in Tulsa, 13 of which have been inside the BOK Center, numerous organizational-defining moments have happened, including during last season's tour stop.

During the event's accompanying 15/15 Bucking Battle, Jose Vitor Leme teamed with Woopaa for a record-shattering, 97.75-point score. In a nearly flawless display of athleticism, Leme was marked an almost perfect 49.75 points, out of a possible 50 points, while Woopaa contributed 48 points, the 10thhighest bull score in the league's history.

Leme's score aboard Woopaa dethroned the previous top ride score of 96.5 points, achieved four times, then most recently recorded in 2004.

The Tulsa score briefly remained the high-marked ride in PBR history until Leme earned an unprecedented 98.75-point score on Woopaa in the Championship Round of the 2022 PBR World Finals, including the first-ever 50-point score awarded to a rider and sealing his second consecutive PBR World Championship.

Additionally, the Tulsa event has a propensity to be won by the season's inevitable PBR World Champion.

Historically, of the past 13 PBR World Champions, seven have won the Tulsa event en route to capturing the coveted gold buckle. Those riders are:Jess Lockwood (2019 and 2017); Cooper Davis (2016); J.B. Mauney (2015, 2013); Renato Nunes (2010); and Kody Lostroh (2009).

Alongside the organization's relationship with Tulsa and BOK Center, PBR has enjoyed a longstanding relationship with ASM Global. Throughout 2022, PBR will host events in more than 20 ASM Global venues, including half of the venues that will host the multi-day homestands for the PBR Teams Series that will launch later this summer.

Adding further depth to the two entities' successful partnership, in 2021, PBR and ASM Global, alongside the Stockyard Heritage Development Co., entered a joint venture to operate the historic Cowtown Coliseum and expand entertainment programming and marketing partnerships within the National Historic District.

The PBR Unleash The Beast returns to Tulsa, Oklahoma, April 15-16 for the PBR Express Ranches Classic, presented by Hard Rock Hotel & Casino. Tickets remain available and can be purchased online at ticketmaster.com and PBR.com, at the BOK Center Box Office, or by calling PBR customer service at 1-800-732-1727.

For more information on the PBR visit PBR.com or follow the tour on social media at @PBR.

About PBR (Professional Bull Riders):
PBR is the world's premier bull riding organization. More than 500 bull riders compete in more than 200 events annually across the televised PBR Unleash The Beast tour (UTB), which features the top 35 bull riders in the world; the PBR Pendleton Whisky Velocity Tour (PWVT); the PBR Touring Pro Division (TPD); and the PBR's international circuits in Australia, Brazil, Canada and Mexico. In 2022, PBR is also launching the PBR Team Series—eight teams of the world's best bull riders competing for a new championship—as well as the PBR Challenger Series with more than 60 annual events nationwide. The organization's digital assets include PBR RidePass on Pluto TV, which is home to Western sports. PBR is a subsidiary of IMG, a global leader in sports, fashion, events and media. For more information, visit PBR.com, or follow on Facebook at Facebook.com/PBR, Twitter at Twitter.com/PBR, and YouTube at YouTube.com/PBR.